Heading to beautiful Fort Lauderdale? Or do you call Fort Lauderdale home for all or part of the year?



Whatever the reason or the season, Priceless of Fort Lauderdale offers the opportunity to rent the vehicle of your choice. You can select the one that best suits your travel needs. We have a large fleet of vehicles; Toyota Corolla, Toyota Camry, Toyota Sienna, Toyota 4Runner, Ford Fusion, Dodge Caravan and others...
Our friendly customer service representatives can help you find the rental car and service you need!

This location services the Fort Lauderdale local customer. Please
click here
for our location servicing the Fort Lauderdale FLL airport.
Renter must present a major credit card for payment at pickup. We don't accept AMERICAN EXPRESS credit cards.
When the customer wants to pay with a DEBIT CARD there is $500.00 mandatory deposit.
Florida residents: we require $1000 deposit on a major credit card (No Debit Card Accepted for Florida customers) - 50 miles per day included .

Additional driver fee is 15.00 per day.
Give us a call 1- 855-616-6011, it would be our pleasure to serve you.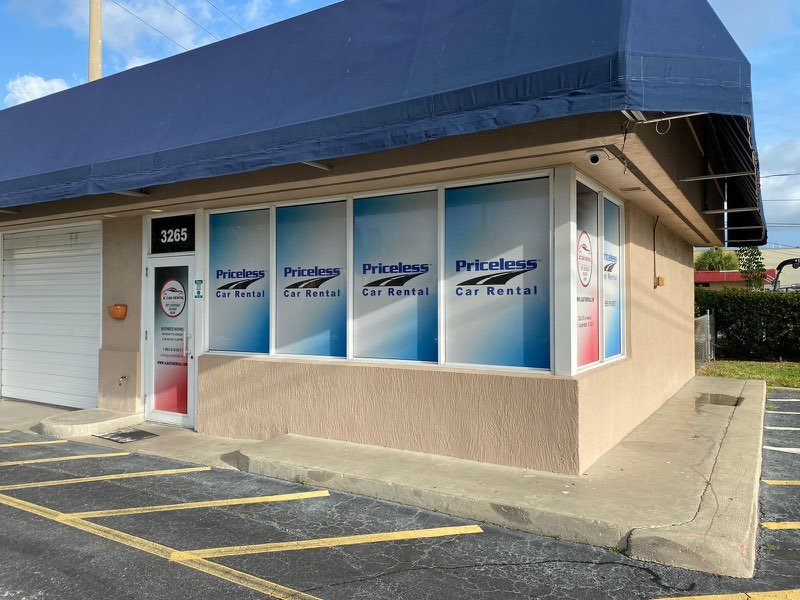 Reviewed by 35 customers. Showing latest 10
star
star_half
star_border
star_border
star_border
So many hidden prices it put a huge stress on my trip. Would not recommend
star
star
star_half
star_border
star_border
I brought a copy of my insurance card so I wouldn't have topay extra for insurance. That apparently didn't suffice because I was asked for a certain section of my insurance policy — which I would have brought if I'd known but I didn't have it on hand, so I ended up spending the extra money. Also, the phone situation there isn't great. The connectiother end of the line (and, no, I am not an older person who is hard of hearing).
star_half
star_border
star_border
star_border
star_border
Thank you for giving my car away leaving me stranded at the airport.. never again with this garbage company!
By STEPHANIA J
May 20 2022
star_half
star_border
star_border
star_border
star_border
I was never picked up from the airport stop to go get the car . When I tried calling I got no answer . Had to rent a different car from a different company
star
star_half
star_border
star_border
star_border
The instructions for shuttle pickup at the airport are not posted anywhere. I called and the instructions on shuttle pick up was not clear. Supposedly the shuttle went to pick me up but said they didn't find me and never called my cell to try to find me. My family and I had to PAY and take an Uber to an address that was listed on the rental confire not apologetic or anything. I was then told I HAD TO get their daily insurance SCAM!!
star_half
star_border
star_border
star_border
star_border
Do not rent from this company number one they give you a quote online when you get to their store it's a different price the cars are filthy the people are nasty it's not worth it they charge you charges that are make believe they charge you for cleanliness never cleaned they tell you 377 then they tell you $6.77 this place is terrible if I could g
star_half
star_border
star_border
star_border
star_border
Horrible experience waiting for shuttle and complete misrepresentation of prices
star
star
star
star_half
star_border
Although the vehicle ran very well, we had a problem picking it up. We rented from you before and did not have this issue. The agent wanted our insurance cover page and wanted to charge us $80 more than our contract stated. then she said there is a special cleaning fee. After 45 min of her telephone conversations with other agents and me obtaining my oriople in back of me were upset, due to the same issues.
star
star_half
star_border
star_border
star_border
Worst rental car experience ever. There are hidden fees and unrealistic policy requests for liability insurance. There was one staff person who appeared to have little customer service skills. WILL NEVER RENT WITH THEM AGAIN & DO NO RECCOMEND!
star
star_border
star_border
star_border
star_border
Shuttle was supposed to arrive at airport at 6:45 am and didn't arrive until 9:30 am. We called the location several times and they told us that they would arrive in 15 minutes each time and never showed. When they did finally arrive the shuttle driver was rude. We arrived at the rental location and the car that we reserved was not there - the the rate that we reserved at.